Adakah ini detik yang paling sesuai untuk menggunakan istilah "friendzoned" kepada Johan As'ari? Selepas meluahkan kata-kata puitis, romantis, jiwang karatis kepada Nabila Huda menerusi Twitter, Nabila berkata kepada Media Hiburan yang mereka berdua saling menyayangi sebagai kawan baik.
Abang Nara membaca ayat puitis Johan As'ari yang ditulis kepada Nabila Huda dan memang jiwa gila tahap impak maksima level Asian 99999. Kalau Johan bagi ayat nie kat awek lain, confirm dah cair 100% dah. Antara ayat yang digunakan ialah:-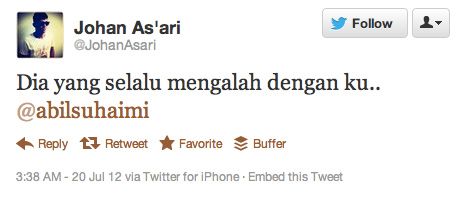 Jawapan yang diberikan oleh Nabila Huda pula ialah:-
Baru pagi tadi saya membacanya dan saya terkejut sangat. Apa yang ditulisnya bermaksud dia ikhlas pada saya kerana dia tahu saya juga ikhlas dengannya. Apa yang ditulisnya juga, itulah yang berlaku antara kami. Dia memang sayangkan saya dan kami saling menyayangi sebagai seorang kawan yang baik. Saya bersyukur kerana dia menghargai saya. Saya banyak mengajar dan berkongsi banyak perkara dengannya. Susah nak ungkap tentang perhubungan kami. Saya hanya ikut ketentuan atau dalam erti kata lain 'just go with the flow'. Doakan sahaja hubungan kami menjadi.
Diharap Johan As'ari dapat keluar daripada "friendzoned" dan berjaya mencuri hati Nabila Huda dengan ayat yang lebih power selepas ini. Berusahalah lagi bro. Usaha itu tangga kejayaan. Jangan putus asa. Good luck and all the best.



sumber:beautifulnara


______________________________________________________
Jangan lupe tekan iklan2 yg ada dalam blog ini..
Cukup lah hanya sekali..Terima kasih..
Please Click the advertisment.Once is enough.Thank You
p/s: please leave our comments also
tolong komen sekali ye post ini
______________________________________________________