Ini satu pencapaian yang amat membanggakan buat seorang penyanyi dari Malaysia. Berkongsi pentas dengan penyanyi Korea, Psy yang terkenal dengan lagu Oppa Gangnam Style adalah satu penghargaan buat Shila Amzah.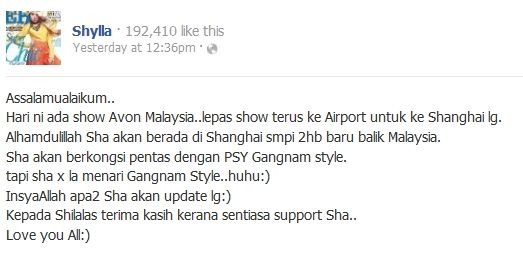 Kagum Abang Nara dengan Shila Amzah kerana berjaya sehingga ke tahap ini. Bukan senang namun pastinya berbaloi-baloi. Sayangnya Shila tak akan menari Gangnam Style bersama dengan Psy. Kalau menari confirm cute-mute dan tambah memeriahkan majlis. Tak ke gitu?
Kepada Shila, buat yang terbaik. Jangan gementar. Psy pun sama dengan ada juga. Hanyalah seorang penyanyi. Harumkan nama Malaysia di pentas antarabangsa. Biar seluruh dunia tahu yang Malaysia juga ada penyanyi yang hebat seperti anda. Good luck and all the best buat Shila Amzah.
______________________________________________________
Jangan lupe tekan iklan2 yg ada dalam blog ini..
Cukup lah hanya sekali..Terima kasih..
Please Click the advertisment.Once is enough.Thank You
p/s: please leave our comments also
tolong komen sekali ye post ini
______________________________________________________