Teka-teki siapakah yang bakal menemani Halim Othman di slot Ceria Pagi SuriaFM terjawab apabila suara lunak Adibah Noor kedengaran kira-kira jam 5 pagi tadi. Sebelum ini, Halim telah bergandingan secara sementara bersama Wan Ajaib.
Kalau tak silap Abang Nara, ini adalah kali pertama Adibah Noor beraksi di dalam konti sebagai deejay radio. Satu percubaan yang menarik. Daripada maklumbalas yang diterima di Twitter, nampaknya banyak peminat yang teruja dengan kemunculan Adibah Noor.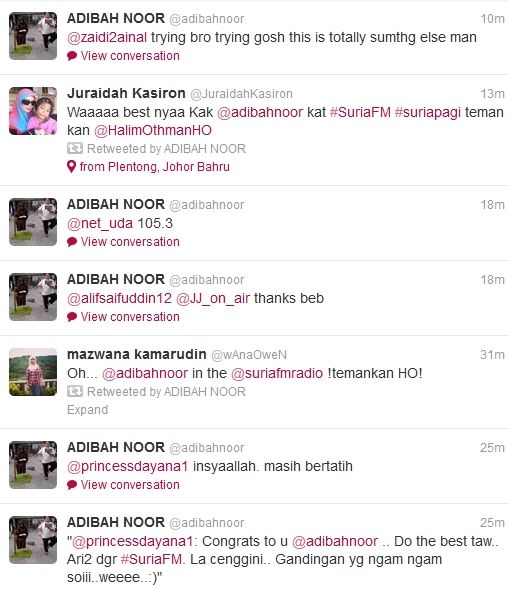 Bagi Abang Nara, perlantikan Adibah Noor ini merupakan satu langkah yang sangat bagus daripada pihak pengurusan SuriaFM. Adibah Noor memang kuat berceloteh, kelakar dan mempunyai idea yang luar biasa. Semoga gandingannya dengan Halim Othman bakal menaikkan rating SuriaFM.
Kepada Adibah Noor, good luck and all the best. Perlahan-lahan kayuh. Jangan tertekan sangat. Alang-alang dah bersama Halim Othman di konti, apa kata ngorat je terus si Halim tue? Hehehe ~~
______________________________________________________
Jangan lupe tekan iklan2 yg ada dalam blog ini..
Cukup lah hanya sekali..Terima kasih..
Please Click the advertisment.Once is enough.Thank You
p/s: please leave our comments also
tolong komen sekali ye post ini
______________________________________________________