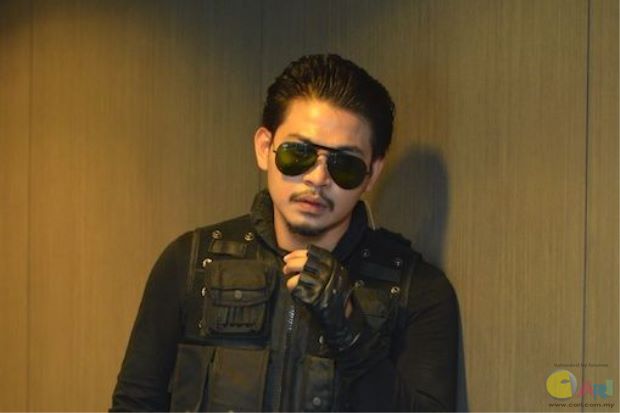 Izzue tidak cepat melatah apabila ada pihak melemparkan tuduhan terhadap isterinya.

PETALING JAYA: Pelakon Izzue Islam sentiasa bersikap tenang apabila ada pihak menuduh isteri yang juga pengurusnya, Nurinafilah Waharudin (Awin) bersikap'queen control' apabila wanita berkenaan sering dilihat bersamanya ketika berada di lokasi penggambaran.

Izzue, 25, berkata, perkara itu tidak sepatutnya menjadi isu kerana sebelum mereka bergelar suami-isteri, Awin telah menguruskan kerjaya seninya termasuk bertindak sebagai pembantu peribadi.

"Saya tidak faham mengapa ia perlu menjadi isu kerana wanita yang saya bawa ke set penggambaran adalah isteri saya malah dia juga adalah pengurus dan pembantu peribadi sejak dari awal pembabitan saya dalam bidang seni.

"Sebelum berkahwin perkara ini tidak pernah menjadi isu pun wahal ketika itu Awin sentiasa bersama saya dan sepatutnya sekarang ia lagi tidak patut dijadikan satu masalah kerana hubungan kami sah," katanya kepada mStar Online.

Izzue ditemui pada majlis pelantikannya bersama aktres Yana Samsudin sebagai duta produk Super 'The Secret To A Smile' di Cathay Cineplex E@curve di sini pada Khamis.

Izzue dan Yana dilantik sebagai duta jenama Super selama tiga tahun.


Dalam pada itu, Izzue berkata, dia tidak pernah berasa terkongkong kerjayanya diuruskan oleh isteri sendiri kerana tanpa sokongan dan kegigihan wanita berkenaan kariernya tidak akan berada pada tahap sekarang.

Kata Izzue, dia menganggap gosip yang diperkatakan tentangnya sebagai satu cabaran dalam rumah tangganya bersama Awin yang dibina sejak setahun lalu.

"Apa yang orang ingin perkatakan tentang kami ia adalah satu bentuk cabaran dalam hubungan kami malah ia sebenarnya mengeratkan lagi kasih sayang dalam perkahwinan kami.

"Awin seorang yang sangat positif dan sporting dalam hal-hal sebegini dan dia banyak memberi semangat kepada saya untuk terus tabah menghadapi dugaan sebagai anak seni," ujarnya.

Sementara itu, Awin yang turut mengulas mengenai isu berkenaan berkata, dia tidak pernah mencampur-adukkan soal peribadi dan kerjaya seperti mana diperkatakan sesetengah pihak dan hanya menjalankan tugas sebagai seorang isteri dan pengurus kepada Izzue.

"Saya menilai perkara ini dari segi positif dan ia adalah lumrah apabila ada orang yang menyokong dan tidak suka kepada kita," katanya.

Izzue dan Yana bersama Pengarah Urusan Super Food Marketing Sdn Bhd, Steven Lim pada majlis pelantikan mereka sebagai duta pada Khamis.


Dalam perkembangan lain, Izzue teruja dengan kepercayaan diberikan oleh Super Food Marketing Sdn Bhd (Super) yang melantiknya sebagai duta jenama berkenaan selama tiga tahun dan ia adalah antara pencapaian terbesar dalam kerjayanya.

Jelas Izzue, selain membantu mempromosikan produk kopi dibawah jenama Super dia dan Yana akan terlibat dalam pelbagai projek termasuk kempen Super Secret To A Smile untuk membantu komuniti yang memerlukan bantuan.

"Saya sendiri menggemari kopi keluaran Super dan tidak sangka pula akan mendapat tawaran sebagai duta selama tiga tahun dan ia suatu kepercayaan yang tidak akan saya sia-siakan," jelasnya.

Untuk tujuan tersebut kata Izzue, dia telah pun mengosongkan jadualnya sepanjang September dan Oktober bagi membolehkannya menumpukan perhatian kepada peranan baharunya sebagai duta Super.

"Selepas ini saya dan Yana akan menjelajah ke seluruh Malaysia untuk mempromosikan produk keluaran Super selain menjalankan tanggungjawab sosial kepada masyarakat.

"Menerusi siri jelajah ini juga saya ingin mengambil kesempatan untuk bertemu peminat yang banyak memberikan sokongan kepada saya," katanya.
______________________________________________________
Jangan lupe tekan iklan2 yg ada dalam blog ini..
Cukup lah hanya sekali..Terima kasih..
Please Click the advertisment.Once is enough.Thank You
AIK?..BACA JE,

KOMEN

LA SIKIT :)
______________________________________________________